Nadia Lim, The Good Food Cook, was recently here at Berjaya University College of Hospitality to do some cooking and I was one of the lucky ones that got the chance to catch with her. This cooking session was specially organised by The New Zealand Trade & Entreprise, Pure South New Zealand, New Zealand King Salmon and Berjaya University College of Hospitality. Nadia herself is passionate about delicious, healthy food that is simple and easy to prepare. The Otago University qualified dietitian, shot to fame after winning the second series of MasterChef New Zealand. Born in New Zealand to a Kiwi mother and Malaysian Chinese father, she later moved to Kuala Lumpur Malaysia where she spent her childhood.
 

Nadia has recently released her second cookbook Nadia's Good Food Cookbook which focuses on healthy food that is big on flavour while remaining quick and simple for the home cook to follow. This book has been selected as a finalist in the prestigious International Gourmand Cookbook of the Year awards.
Nadia is wrapping up filming for a TV show which has been produced for the Asian Food Channel. The show, New Zealand with Nadia Lim, is being screened primetime across 14 countries throughout Asia, increasing awareness of New Zealand food and culture.
Nadia has gained a strong following through her published work in New Zealand through the NZ Herald, Good Health magazine, TVNZ's Good Morning, Newstalk ZB, and her high-profile company My Food Bag, reported to be New Zealand's most suceesful start-up business in 2013. Nadia is also the proud ambassador for Regal Salmon, Intrepid Travel, and Avocados NZ.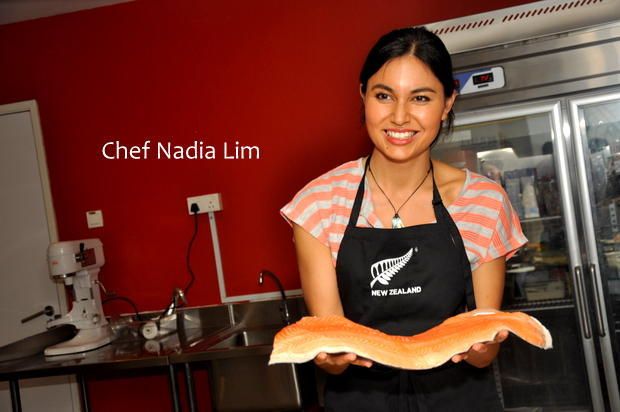 Nadia works with many major charities to help encourage New Zealander's to improve their diet, working closely with Diabetes NZ, the Heart Foundation and the Hospice. Her cooking is fresh, bright and tasty with easy to follow recipes that make use of what's in season. For more information on Nadia visit www.nadialim.com or www.myfoodbag.co.nz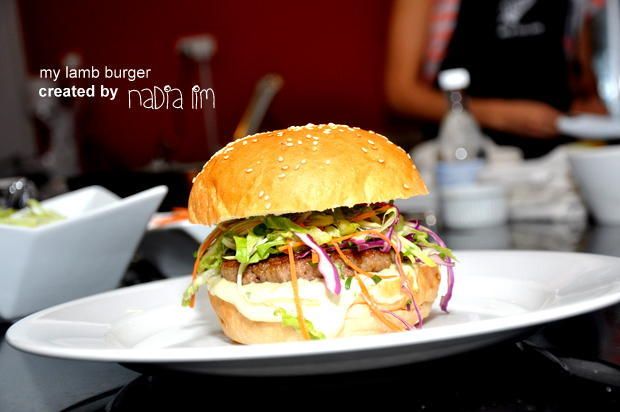 LAMB BURGERS
 
6 lamb burger patties
6 burger buns
(12 slices fresh ciabatta or sourdough)
 
Heat a drizzle of olive oil on BBQ hot plate on medium high heat.
Cook lamb burger patties for 3-4 minutes each side until well browned
and cooked through. If using burger buns, cut in half. Brush split burger buns,
sourdough or ciabatta with olive oil and grill for 2-3 minutes each side or until
lightly toasted and golden.
Wasabi Lime Mayo
2 tsp Wasabi powder 45 g QP mayonnaise
1 tsp Mirin sauce 1 tsp soy sauce
½ avocado ½ lime
½ tsp salt Pinch of pepper
Finely grated zest from 2 limes Juice from ½ lime
Mix wasabi lime mayo ingredients together.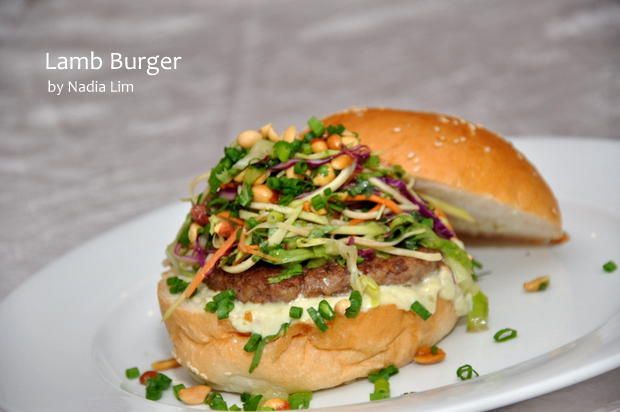 Nadia's Asian peanut slaw
1/2 red cabbage very finely sliced
1 bunch of bok choy (Chinese cabbage), finely chopped
1 carrot, shredded or cut into thin matchsticks
1 green mango peeled and cut into thin matchsticks
4 finely sliced spring onions
1/4 cup roasted peanuts
1/4 cup lemon juice
2 tablespoons light soy sauce
1 table spoons sesame oil
1/4 cup finely chopped coriander
 
Finely slice the spring onions and cabbage; shred or grate the carrots; roughly chop the peanuts. Mix lemon juice, soy sauce and sesame oil together and toss with slaw just before serving.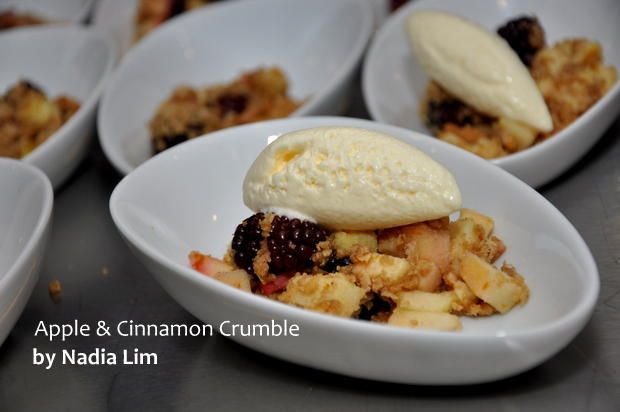 Apple and Cinnamon Crumble
1kg of New Zealand apples, roughly chopped (any apples)
1 cup of blackberries, fresh or frozen
2 tablespoons New Zealand honey
Zest from ½ of 1 orange
½ cup fine brown sugar
¾ cup rolled oats (fine)
¾ cup ground almonds
50g, diced New Zealand butter
1 teaspoon ground cinnamon
1 teaspoon baking powders
Pinch of salt
1 tube of Tatua whipping cream.
Recommended to serve with classic vanilla ice cream and vintage strawberry – 1 scoop to accompany each serving.
 
Combine apples, blackberries, honey, orange zest and juice in a medium-sized baking dish.
Combine brown sugar, rolled oats, ground almonds, butter, cinnamon powder, baking powder and salt in a bowl. Rub the butter into the mixture with your finger tips, until it resembles breadcrumbs.
Spoon crumbles topping over the feijoa blackberry mixture.
Bake until the topping is golden and crunchy, 30-40 minutes.
Serve crumble with yogurt.