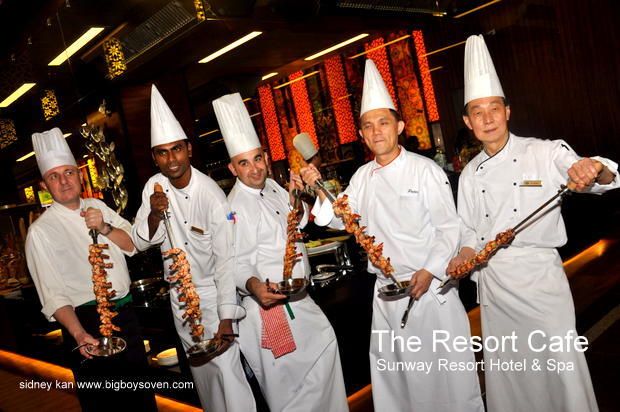 Sunway Resort Hotel & Spa is proud to announce the opening of the Hotel's brand new all-day dining restaurant, The Resort Café, making its debut on Sunday, 19 April 2015.
Located at the Lobby Level of the 5-star hotel, The Resort Café is a treat for the senses. Taking inspiration from Asia's lively food halls, packed by the hive of activities, movement and aromas, The Resort Café is a true canvas to Malaysia and Asia. It celebrates the diverse cultural influences of the Malay, Chinese and Indian communities, serving a range of Malaysian, Singaporean, Indonesian, Thai, Vietnamese, Korean, Japanese, Chinese, Middle Eastern and Western dishes; providing diners with sensory sensations, bringing together the most authentic tastes of popular dishes.
Resort Café is designed to enhance the restaurant's sense of nostalgia, drama, energy and action. It brings a new twist, creating a dynamic, interactive and explorative space that mirrors the vibrancy of Asia. A kaleidoscope of bold colours and illumination of bright motif-inspired décor dominates the restaurant's 17,588 square feet of space (1,634 square metres); accented further by its impressive 18 feet high (5.5 metres) double volume ceiling. Designed by Sunway Design Sdn Bhd, the 362-seater restaurant is divisible into three (3) dining areas, each reflecting its own design characteristics, personality and story; the restaurant also enjoys a prominent street presence along Persiaran Lagoon, in addition to being accessible from the Hotel's Main Lobby.
Incorporating a bustling open-exhibition kitchen, diners are in for a unique dining experience with an exciting array of live cooking activities and chefs interactions featuring a la minute preparation with personalisation and customisation and an expansive display of dishes, a true theatre for the senses.
Be wowed by the monumental octagonal-shaped towers filled with freshest greens and seasonal fruits, enticing buffet island, extensive a la carte selections and bustling open exhibition kitchen, all put together to collectively curate taste sensations, allowing diners to experience waves of nostalgia, familiar flavours and delicious memories, from near and far. The Resort Café also presents a first of its kind in a restaurant in Malaysia, a state-of-the-art system, a pair of salad and fruit tower. The wrap-around design is equipped with chilled water mist and refrigeration systems, blowing 10°C cold mist at the greens and fruits, keeping them fresh and crisps for a long time.
Five (5) speciality chefs with diverse personalities and styles are on board to push all boundaries in creating a new twist, for a truly experiential dining experience. Embodying the concept of nostalgic, authentic and comforting into its all-new breakfast, lunch and dinner menus, the Chefs at The Resort Café has found a way to excite the taste palates of diners by rekindling memories and satisfying appetites.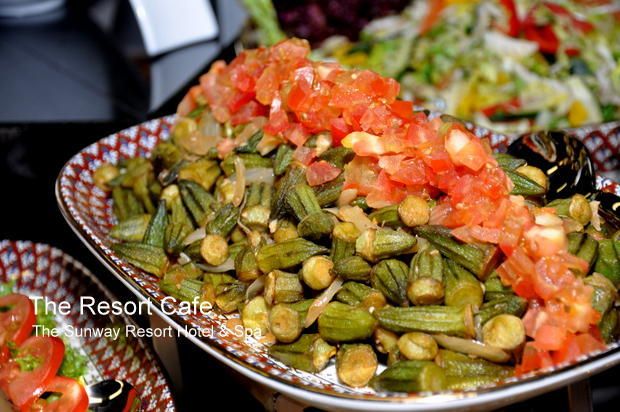 THE FUNTASTIC 5 (THE RESORT CAFÉ'S CHEFS)
SIONG GOR, UNCLE RAY, ANNEH THIBAN, ALA'A HABIBI AND SENOR SERGIO
The Resort Café's dining experience is presented by five (5) well-travelled chefs known as The Funtastic 5, each from dynamic and diverse backgrounds. Headed by Siong Gor (Executive Chef Peter Lee Tong Siong) and his team – Uncle Ray (Executive Sous Chef Raymond Yin Teng Poh), Anneh Thiban (Chef De Cuisine Parthiban Nalliah) and Ala'a Habibi (Middle Eastern Cuisine Chef Ala'a Ali Ansawi) and Señor Sergio (Task Force Chef Sergio Zanetti), they have created a new and exciting menu with an array of Malaysian, regional Asia, Middle Eastern and Western cuisine that will take diners back to a special place and time, one plate at a time.
Working together for the first time as a cohesive cluster of chefs at the all-day dining restaurant, the synergy has brought together fresh inspiration, new ideas, recipes and cooking techniques that are reworked, resulting in exciting range of dishes available in the a la carte menus, wide selections on the buffet menu rotations, express luncheon combinations, tiffin sets, hotpot sets and numerous others menu and dining options. The Resort Café features enticing buffet island measuring up to 58.7 meters in length (198 feet long) with 100 main dishes from seven (7) different menus on rotation daily and scrumptious a la carte selections brimming with over 50 selections of chefs unique and signature dishes.
The Chefs have also created different concepts and menus catering to different dining audiences. For those on the go, the express lunch sets comes with a soup of the day and a main course. For dinner, The Resort Café features a hot pot corner, serving flavourful and unique broths such as Spicy broth (Mah Lat) and Tomato broth with fresh ingredients, for them to indulge in. Alternatively, dinner set meals served in a chic three-tiered tiffin carrier are available in four (4) choices which include Indian, Kampung, Nyonya and Vegetarian sets, all comes with appetiser, main and dessert.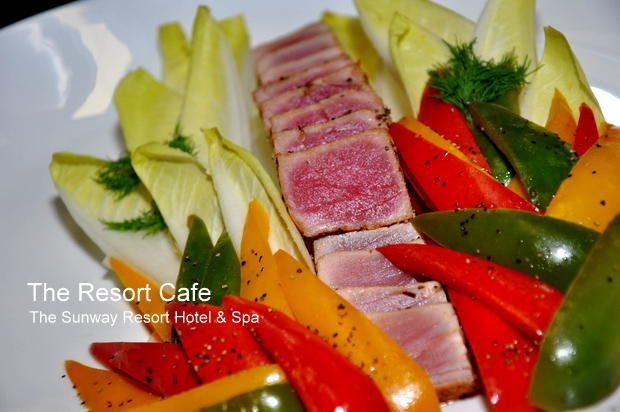 FOOD THEMES AND OFFERINGS
Eight (8) main themes dominate the culinary offerings at The Resort Café. Diners are able to indulge in these nostalgic dishes from the extensive a la carte menus and buffets. The eight themes are include the Monumental Towers (Appetising Salad and Seasonal Fruits), Malay Archipelago (dishes from Malaysia, Singapore and Indonesia), Indo-Chiné (dishes from Thailand and Vietnam), Oriental Far East (dishes from Japan, Korea and China), Spices of India (dishes from Northern and Southern India), Treasures of the Middle East (dishes from the Middle East), Best from the West (Western comfort food, grills, carvings, rotisserie and churassco) and Desserts (old-school favourites, sweets, pastries and cakes).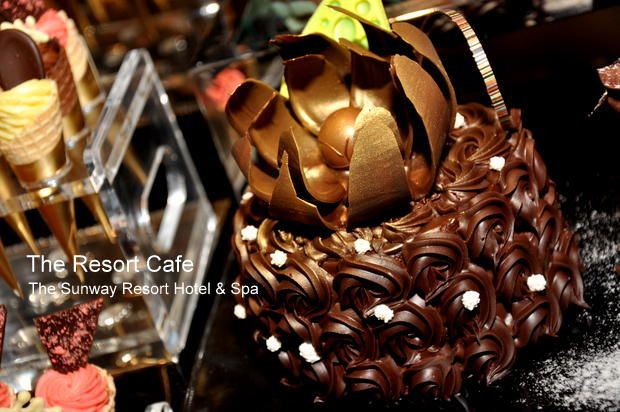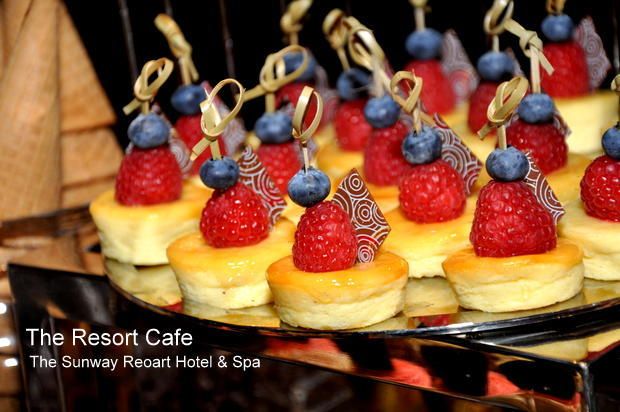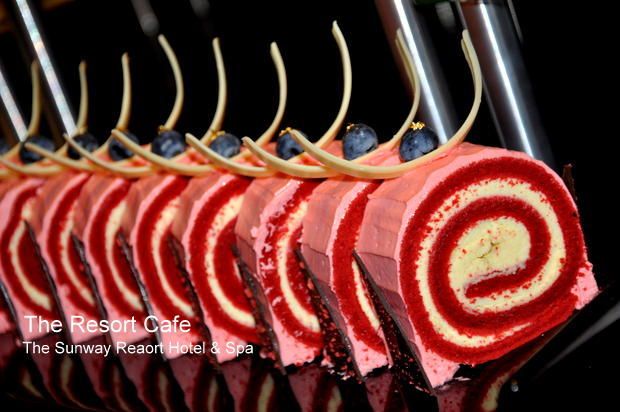 CELEBRATED DISHES TO WOW YOUR PALATE
The restaurant menu showcases the imaginative spirit of the chefs, each bringing on board their signature specialties with a new twist for a truly experiential dining experience of nostalgia, drama, energy and action. As diners step into The Resort Café, they will be greeted by two (2) voluminous towers – the Salad and Fruit Towers, featuring a wide range of seasonal greens and fruits which are kept fresh and crisp with its wrap-around design equipped with chilled water pipes. The Salad Tower is dramatically presented in two (2) tiers where the first tier features over 30 different types of greens covering an assortment of local and international picks. On the second tier, diners can expect international and Asian home-made dressings where each day sees a rotation of favourite Asian salads such as Ulam-ulam, Pasembur, Gado-gado, Miang Kham, Som Tam, Yee Sang and Rojak Buah that takes the highlight at The Resort Café's Salad Tower during Breakfast, Lunch and Dinner. At the Fruit Tower, bedazzled with the extensive selection of local and international fruits served in slices, or cubes and as a whole, ranging from Longan, Jackfruit and Soursop to Passion Fruit, Grapes and Strawberries.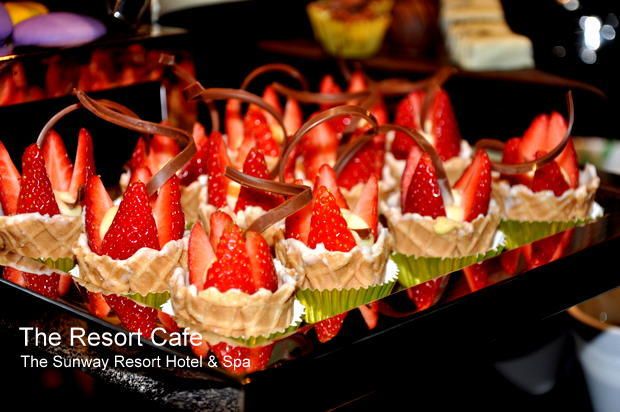 Pushing all boundaries in creating a new twist, some "wow" dishes that can be seen in the menu includes the much-loved Miso Soup with Maca Root, Fresh Oyster and Lobster. This Miso Soup is no ordinary broth. Serving up luxury in a bowl, premium ingredients like Maca Root (also known as Peruvian Ginseng), Fresh Lobsters and Fresh Oysters are brought together in this unique signature dish to present the most flavourful and aromatic brew in the restaurant.
Char Kway Teow with Jumbo Cockles, Prawns and Duck Egg topped with Fresh Crabmeat by Uncle Ray, uses the freshest of ingredients that bring out the aroma and taste that will sure be a hit amongst diners. And for dessert, diners are also recommended to take delight in the signature "Cherry Blossoms on Mount Fuji" (a super luxe Ice Kacang), a mountainous serving of shaved ice with ingredients fit for at least four (4) persons, including Corn, Attap Chee, Cendol, Cincau, Kidney Beans, Pandan and Rose Jelly, Peanuts, Longan, Chia Seeds, Nutmeg, Sago, Lychee, Jackfruit and Almond Flakes, topped off with Milk, Syrup, Sugar and Ice-cream.
On Friday and Saturday nights, diners are in for a treat with the choice of having unlimited servings of Señor Sergio's signature Churrascos as part of the buffet. Featuring the buffet-to-you concept, the restaurant's waiters will serve the tender and juicy grilled-to-perfection meat, seafood, vegetables and fruits on skewers, slicing these delicacies onto the diners' plate as desired. The Churrasco is served with a side serving of Feijoada (a stew of black beans) and accompanied by flavourful sauces like Guacamole, Chimichurri, Chilli Peppers, Guava Paste and Thai Chilli Coriander.
Some other authentic "wow" dishes that will bring memories of a travel back to diners includes the signature Thai Green Curry with a selection of Beef or Chicken, the Vietnamese Pho Bo served in its original form with a stack of fresh herbs and vegetables presented in a separate basket, Nyonya Laksa Lemak and Korean Bibimbap. The Resort Café's Middle Eastern Cuisine Chef, Ala'a Habibi also brings on board a range of favourites such as the Lebanese Hummus and Saudi Chicken Kabsa. For those longing to have a taste and presentation of local highlights, Anneh Thiban brings back the familiar taste to diners with his Nasi Lemak Bungkus, Pasembor, Apam Balik and the traditional Malaysian Soup Tulang. Besides the wide variety of Asian cuisines, the menu also includes Italian and Western dishes to please the tastebuds.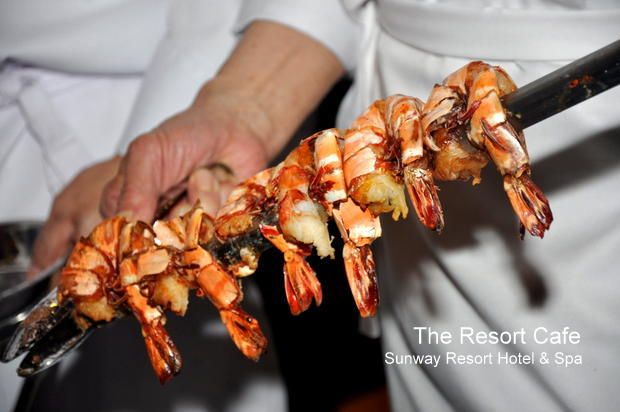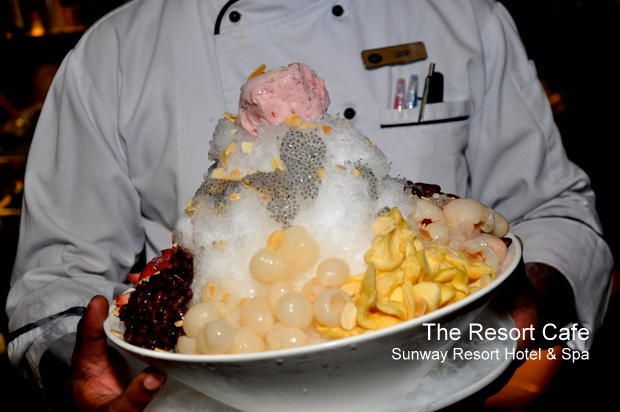 MEAL OFFERINGS
BUFFET AND A LA CARTE
The Resort Café's abundant spread of flavours is available daily for breakfast, lunch and dinner. Breakfast is served at RM82 nett per adult from 6.00am to 10.30am daily. Lunch on Monday to Friday is served from 12.00noon to 2.30pm with diners given a choice of the full buffet spread at RM118nett per adult, or to opt for the Salad and Fruit Tower at RM58 nett per adult or the daily express lunch set at RM38 nett per set. On Sunday, The Resort Café's WOW Sunday Lunch is priced at RM128 nett per adult with an extended lunch hour that starts from 12 noon until 3.00pm. The buffet spread for dinner on Sunday to Thursday is priced at RM128 nett per adult.
Diners also have the option of the Tiffin Set at RM58 per set or the Hot Pot set at RM98 nett per basic set or RM118 nett per seafood set for a minimum of two (2) persons on these days. The Hot Pot section also serves Sukiyaki set at RM56 nett per serving.
The dinner buffet on Friday and Saturday nights are enhanced with an unlimited serving of Churrasco. For a go at the full buffet with the Churrasco option, dinner is priced at RM168 nett per adult and RM138 nett without the Churrasco. Dinner is served from 6.30pm to 11.00pm. The a la carte menu is available daily from 11.00am to 11.00pm.
All prices are quoted nett in Ringgit Malaysia (RM) inclusive of prevailing Goods and Services Tax (GST).
For enquiries or dining reservations, please call The Resort Café directly at +60 3 7495